Military "Tactical" Computers
This page is not meant to be a history or representative of all military computers, just part of my collection and systems that I have experience with. All of these systems are computers that lend themselves to regular DOS or windows applications. If you know anything or have any stories please feel free to contact me.
Rolm / Loral 1602
They are a military version of the Data General NOVA 16 bit computer.
They first appeared back in the mid seventies but were in production well into the nineties first by Rolm and later by Loral. Just like the Nova they have four general accumulators and came in 8 to 32 K Core or static memory versions.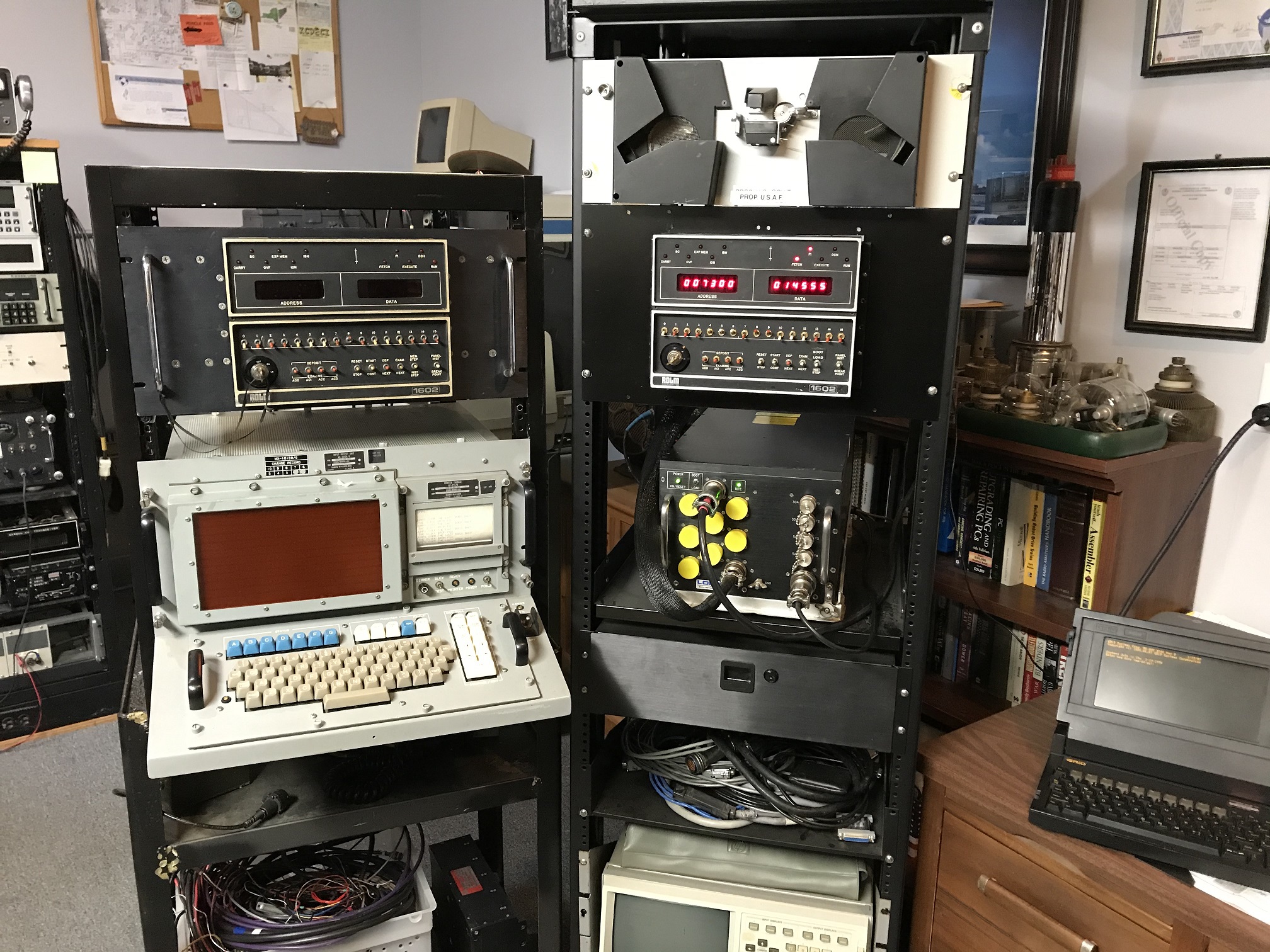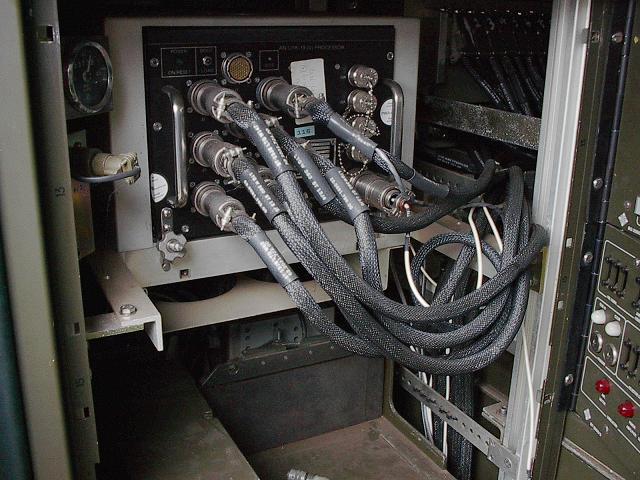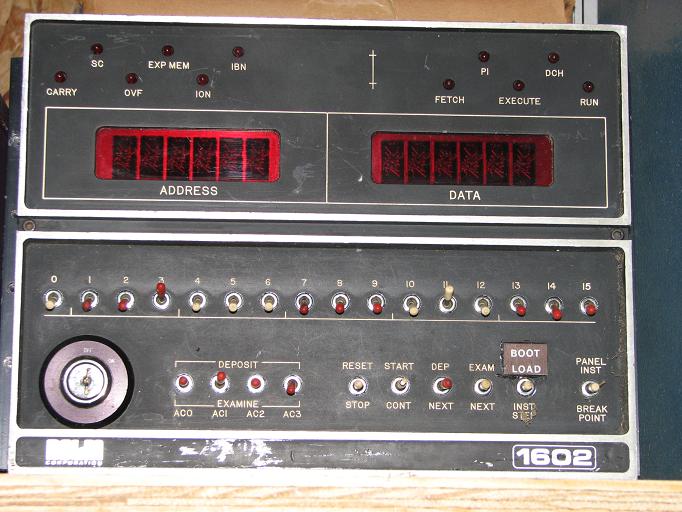 They were used in ECM systems, Cruse Missiles and for Air Traffic control along with hundreds of other uses. They have the ability to operate from well below zero up to the boiling point and being they have core memories the do not need a Hard Drive or operating system but can have the program loaded onto the core and go from there.
Grid Systems
The Granddaddy of all laptop computers, the first system appearing in the late seventies and very early eighties they set the pace for the heavy duty laptop. Told they are the first "Clam Shell " design.
The 1530 and 1550 is typical of the mid eighties design, both running 386 6 or 12Mhz chips. the 1530 was the ultimate DOS system for its time but was lacking when it came to "windows" with only one com port and no internal plotting device, the 1550 ( on the right) was designed for "windows" although it was only windows 3.0 , with three comm. ports ( one for the internal mouse ) , the internal plotting mouse and a VGA display.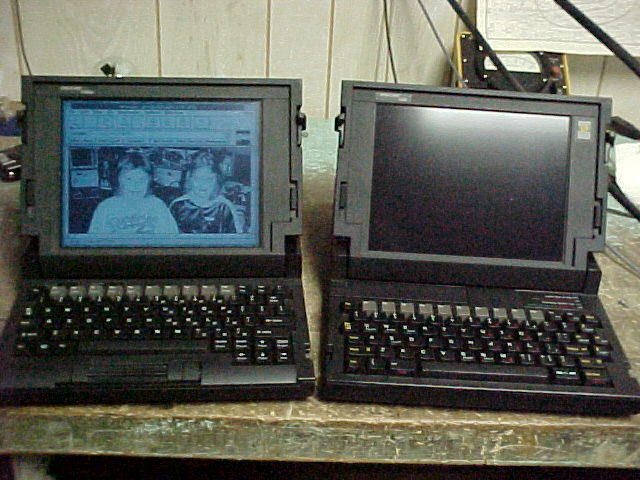 One of the oldest is the "Compass" series, they predate the modern PC, had a separate docking station and the odd capability of using bubble memory and not needing a hard drive because the bubbles matins their programming without power.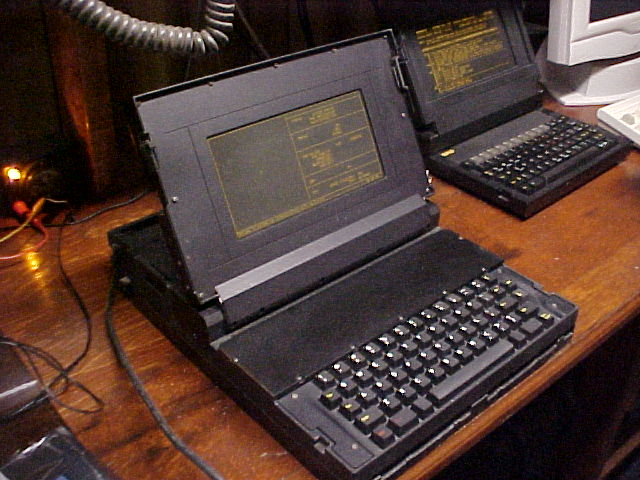 This one still has the same software from 1980 that loads from the "bubble".
To see more of the Grids look at my "Grid Laptops" page
And the center of the Grid universe "Robs Grid Board" website
SAIC Systems
SIAC built tons and tons of systems, one that I have owned is the V2-LC, this system is built around a industrial ISA back plane with a 486 25 or 33Mhz processor on a board, usually with 32 megs of ram and a removable IDE hard drive. they appear to come standard with a SCSI port, and a internal modem. I have seen them with both VGA monochrome and LCD color displays.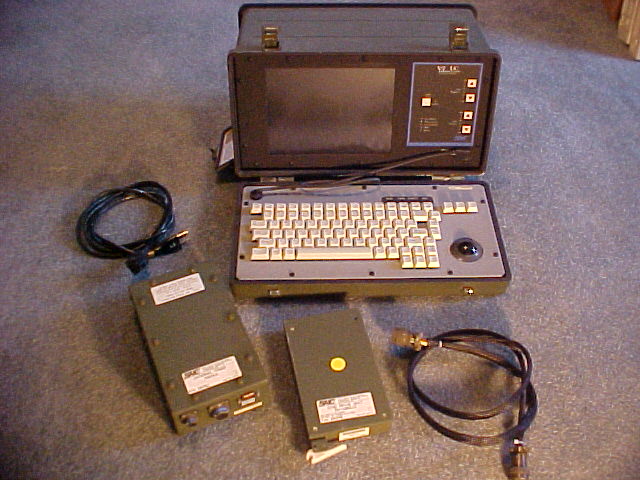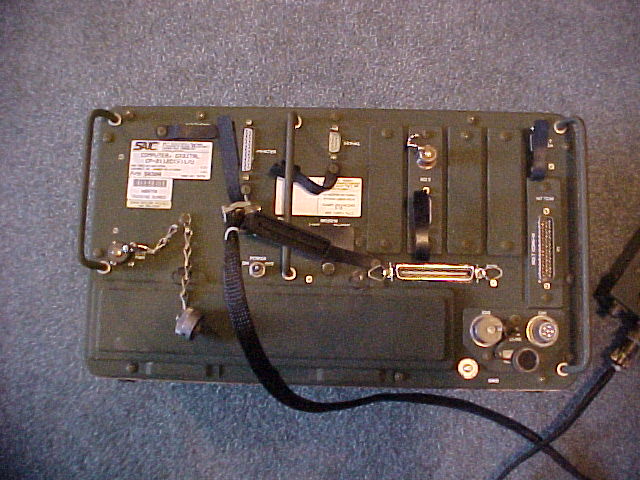 In this picture you can see the removable hard drive and the universal power supply, it will work from 100 to 250 Volts AC or 11 to 32 Volts DC. the system runs just fine from 24 Volts DC but the cable between the power supply and the computer has about a dozen wires? also the case has internal DC heaters with a small DC heater under the hard drive to keep it warm.
GETAC A740
This is probably the newest military laptop I own, its a Pentium 200 MMX with 32 megs of ram running windows 98. They use a standard laptop hard drive and memory stick, its good to see that all the newer stuff is using off the shelf components.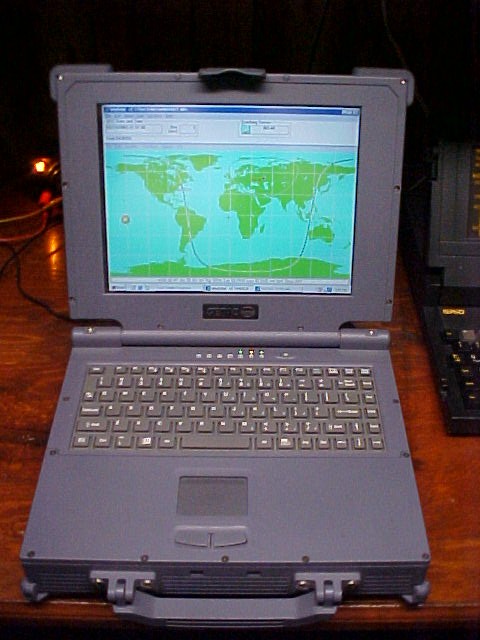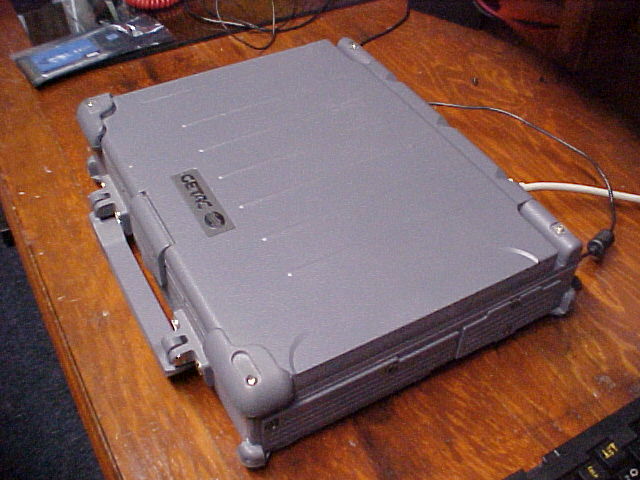 I feel that this is the heaviest computer built, I would take it over a Panasonics CF-25 or a Itronix 6250 any day of the week, just because I like it so much here is a picture of it at work next to a "tempest " gridcase three.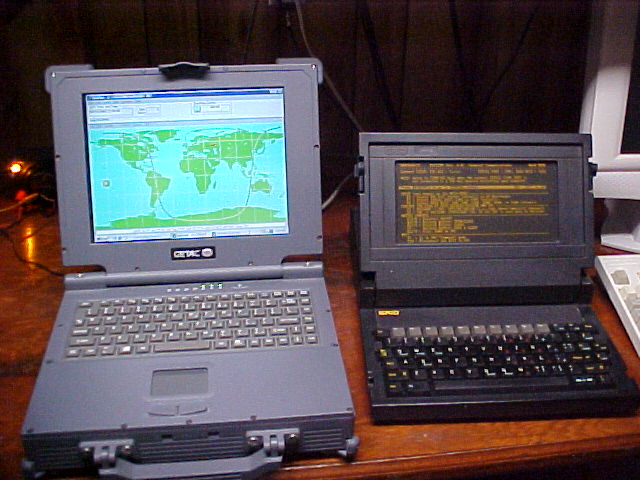 Although the Getac has one flaw, when charging the internal batteries while it running it will suck down 28 volts at 2.5 amperes. have no idea what it doses with all that power.
The "Getac Systems" website
Cyberchron MDL-CPC-5000
This is a 486/25 system that was part of a automated test and measure system using the HP-GPIB bus. Don't you just love the name! This system replaced my Gridcase 3 for driving my Packet TNC, DOS Shell will live forever!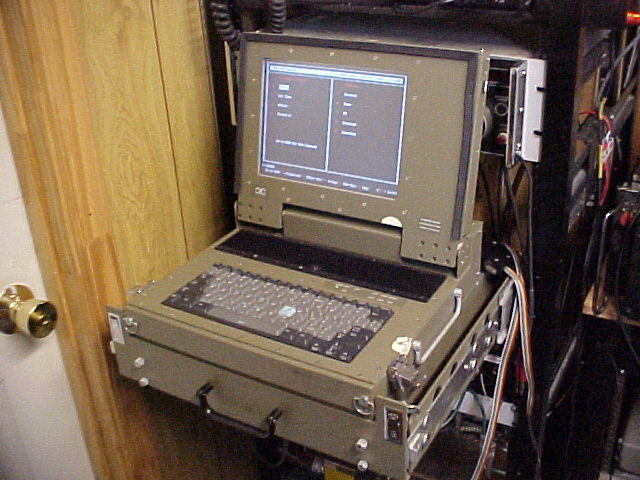 Once again this uses all off the shelf components with the exception of a very strange power supply, a sealed module. I installed a new IDE hard drive and a old Intel DX4 100 MHz 486 that I had laying around the shop and now this may be the fastest 486 system around.
CGS-100 AN/TYQ-63
California Microwave builds a case called the CGS-100, inside this huge , heavy box lives a ISA plane board, a LCD display and a integrated keyboard mouse.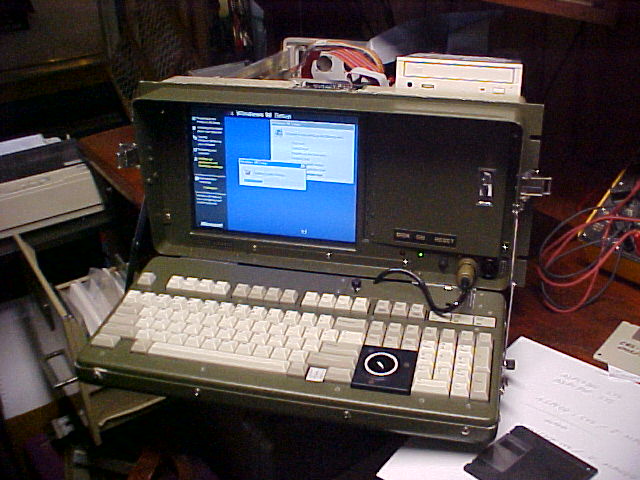 This system has a signal board P1-166 64 Meg processor board, a APTI SCSI controller, Dolch video card with flat panel driver and network card that I have installed.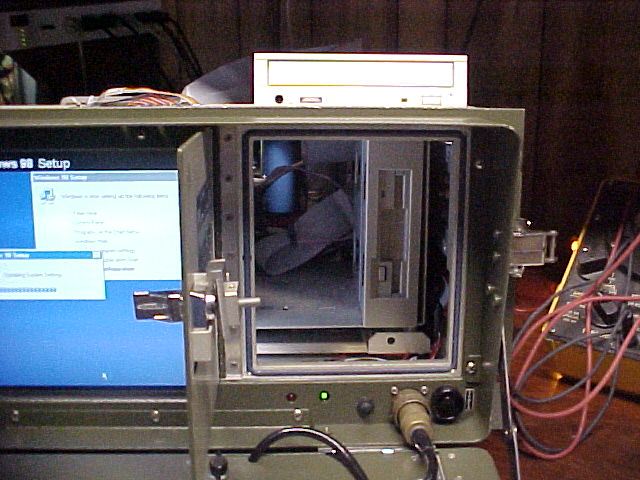 The system came with a dual 3.5/5 inch floppy that did not work so I replaced that with a standard 1.4, also you can see the SCSI CD rom I installed to put windows 98 on the system. their is a SCSI hard drive that I hung in the bay later. And you can see Windows 98 is still going strong around here.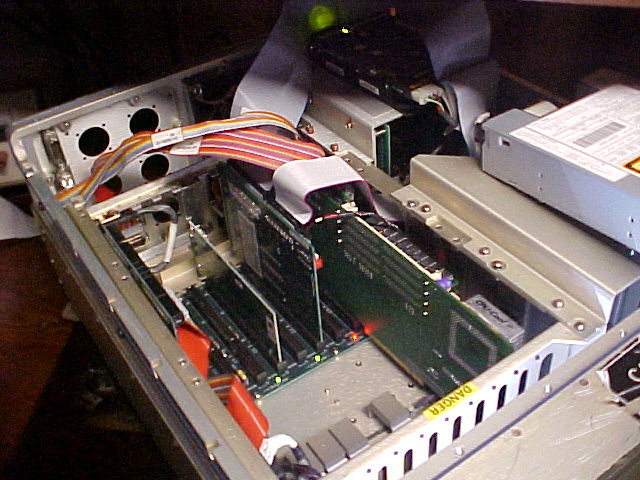 The top view shows how all the boards fit into the ISA plane. the processor board supports PCI but the plane don't.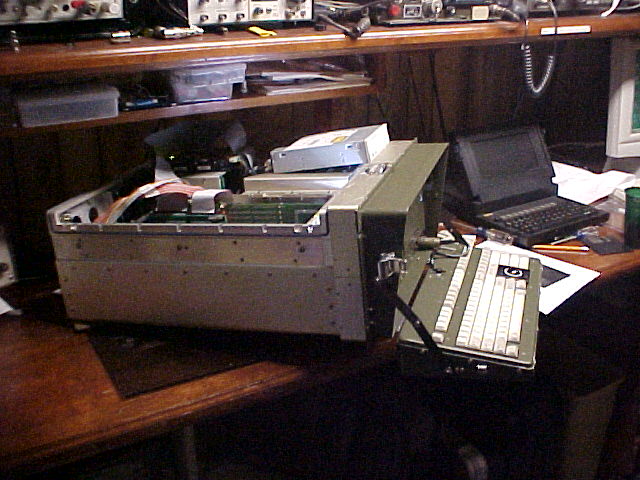 This is maybe the heaviest computer I have bought today, what you don't see is the hard shell plastic shipping container it arrived in. a custom built shipping case for this system. everything together weighed over one hundred pounds!
Have discovered that this is a part of the AN/TYQ-63 communications system and ran NT as a operating system, I have NT but would rather run 98.
MX-10159 SCS Communications Terminal or Message Terminal
This is a Millsat Communications Terminal that I bought not to long ago, it has three baud rates, 2400, 600 and 75 and runs on 28 Volts DC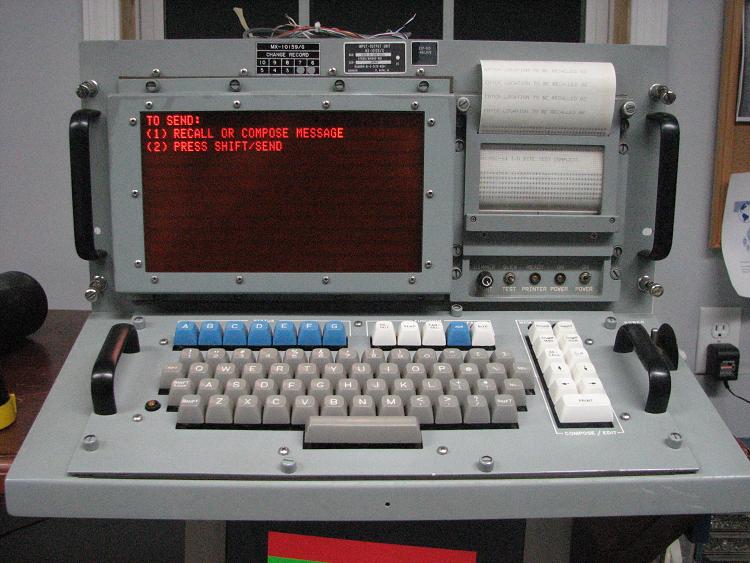 They were used in a communication systems with the AN/GSC-40 or AN/MSC-64 message center. From what I have been able to learn they chugged along at a high data rate of 75 baud and lived in a S-280 truck mounted shelter and operate at 7 bit, one stop, odd parity and in ANSI mode only. also all outgoing traffic must be stored to the internal buffer and sent from there, you can not type in real time.
IP-1548 Communications Terminal
Know nothing about this yet other then it operates from 24 Volts DC and has a red plasma display.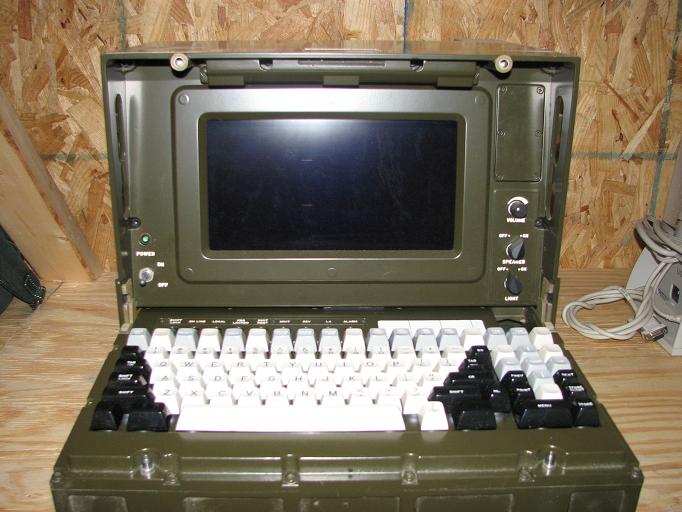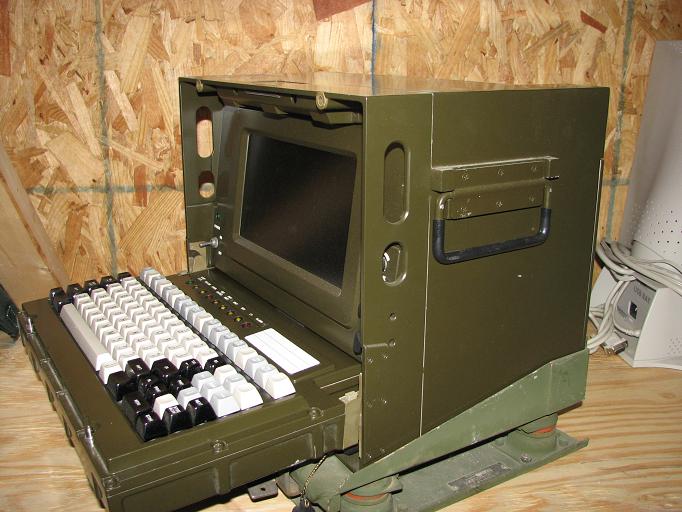 The terminal fits into a VRC-12 series mount, and so far has resisted any attempt I have maid to get data in or out of its communication port. think that they must be using some CTS/RTS handshaking that is preventing me from seeing any data.
UGC-129 Teletype Terminal
1980s teletype terminal with internal buffer and selectable baud rates, also will send ASCII or Boudae code set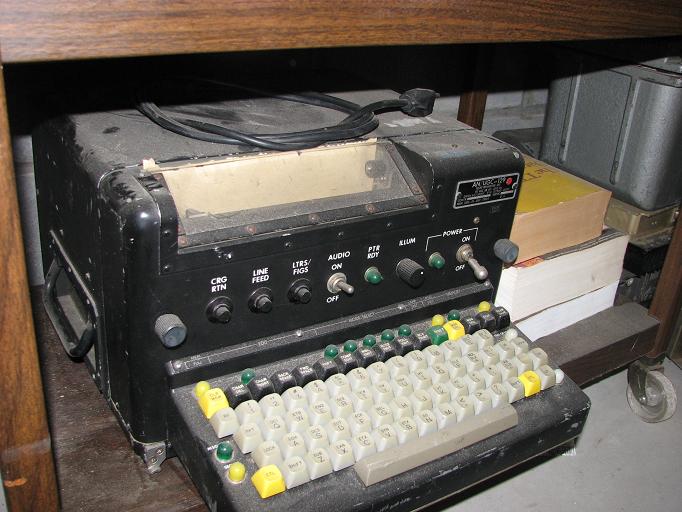 Uses standard teletype paper, just have to clean up and get new ribbon.
TYP-33 / TYQ-33
Cant say much about this, if "Warbirdsrelics" ever figures out how to send it to me will do a conversion on how to install a new motherboard and make it useful.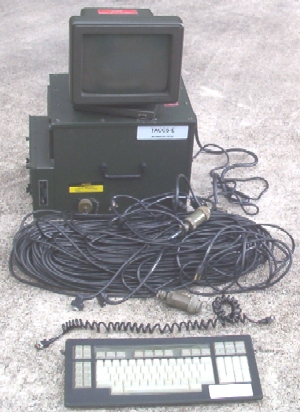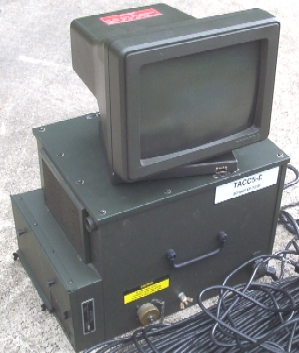 A update on the 33, it finally arrived and proved to be about the most useless system. it is a DEC 386 with bios that allowed it to work with other systems in a DOS network, no internal hard drive or floppy and a special system board that hooks to nothing. Sold the whole mess at a Ham fest for $20
Panasonic CF-25
The CF-25 family are 100 to 166 MHz P1 systems, using standard laptop hard drives and memory sticks, they look plastic but are really a titanium case. Their web site has every driver you can think of on it. although I never had one I feel the CF-27 would be a better system. both CF-25 I had were always failing so I am no fan of them.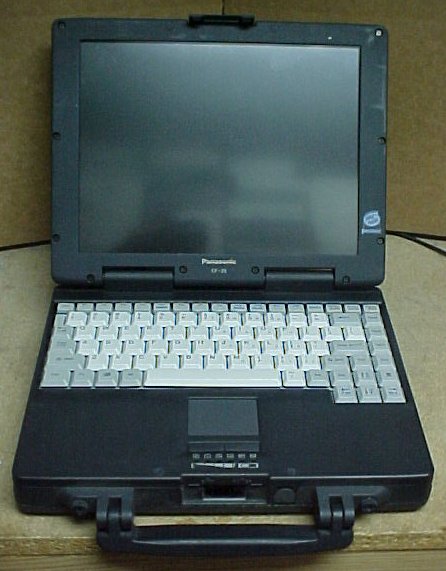 Panasonic " Toughbook" website
Itronix
The Itronix 6000 a 486 system and the 6250 a P1 system. but what can I say about a system that don't include a floppy or CD rom drive? The soft skin case is interesting.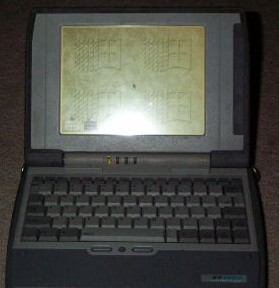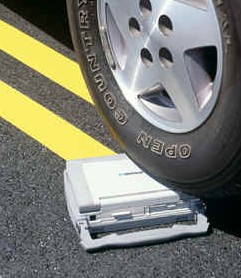 As you can see , people prefer to use them as wheel chocks.
MESA and IBM
Have a large collection of older desktop tempest systems, XT, 286 and 386 that were produced by IBM and MESA . they are all rack mount or desktop systems. if their is any interest or you want to see them feel free to write.
Everything expressed on this page is only my opinion! theses comments are not meant as a endorsement or a denial of the quality of these obsolete systems.
Return to " Rays Web Page"
JAN 21